The G20 summit is nearing its conclusion, featuring foreign dignitaries from around the world. This event, which garnered global attention in India, demanded dignitaries and their spouses to be fashionably on point. UK's Prime Minister Rishi Sunak's wife, Akshata Murty, not only demonstrated her capability for the task but also established fashion standards for visiting first ladies. Since her arrival in India for the G20 summit, her wardrobe has been in the spotlight. The chosen elegant pieces for various summit occasions may have had a subtle appearance, but each was meticulously styled to convey deeper messages about their Indian connection, traditional craftsmanship, or sustainable fashion.
At last night's G20 dinner hosted by President Droupadi Murmu at the Bharat Mandapam, Akshata selected a long-sleeved, floral-printed, midi dress made of silk georgette. With an ankle-length tiered skirt cinched at the waist, the vibrant outfit incorporated natural colours of coral pink, sky blue, and mint green. She completed her look with statement diamond dangling earrings, rings, and a golden clutch. While the style of this scoop-neck, multi-colored outfit alone could capture one's attention, Akshata's choice likely stemmed from the story behind its creation. The one-piece is from the Saloni label, a brand managed by a London-based designer of Indian origin. Saloni is involved with Connecting For India, a community that bridges ancient Indian craft traditions with contemporary horizons through collaborative projects.
Earlier in the day, at a millet exhibition at the Indian Agricultural Research Institute, as part of the G20 Spouses Programme hosted by Kyoko, the wife of India's External Affairs Minister S Jaishankar, Akshata opted for a lilac "Valli" dress from Manimekala, a small British-Indian slow fashion brand. The dress featured a marbling print on soft organic cotton, puff sleeves, and an A-line skirt with a tiered hem and pockets. According to Manimekala Fuller, the half-Indian, half-British founder and designer, the Valli dress offers a feminine twist on a classic shirt style. Manimekala expressed gratitude to the First Lady for promoting female-owned brands, both in India and across the diaspora, emphasising sustainability and ethical production.
On her first day in India, Akshata chose an orange co-ord set from the Indian brand Drawn, known as the "Wild Iris" set. Drawn is an independent ready-to-wear fashion brand based in India, emphasising conscious consumption, a pre-order shopping model, and limited runs of wearable art.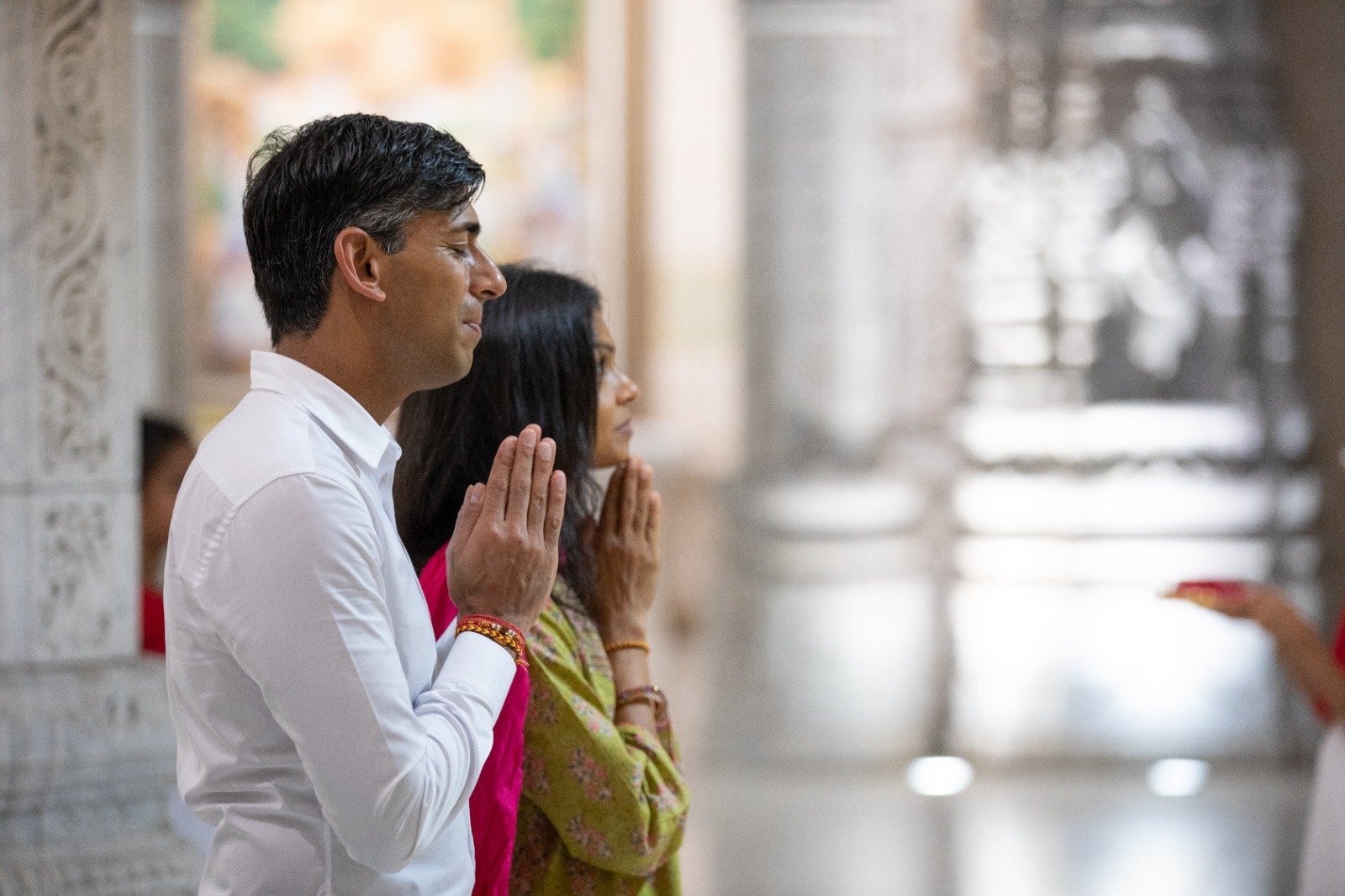 During her trip, Akshata Murty and the UK Prime Minister visited the Akshardham temple in New Delhi, participating in rituals and interacting with the pujaris. For this occasion, Akshata wore a simple magenta-pink and green salwar suit, featuring floral motifs with a matching dupatta and palazzo pants.
Akshata's initial outfit for the trip garnered attention as well. She wore a crisp white button-down shirt tucked into a long brown skirt with floral prints, adding a touch of colour to the understated ensemble. She completed the look with nude pumps.
As she bid farewell to the country, the first lady opted for a fully ethnic, soft pink cotton saree adorned with gold cross-border embellishments and motifs. Her accessories were minimal, with danglers, and her hair was neatly styled in a bun.
Akshata Murty possesses a deep understanding of fashion, holding a diploma from the Fashion Institute of Design & Merchandising and her own fashion label, Akshata Designs. Her brand focuses on highlighting Indian craftsmanship and textile traditions, making her choice of attire for grand occasions like this one not only fitting but also a statement of support for worthy causes.